Former Vocation Director meets America in the Kitchen
Former Vocation Director meets America in the Kitchen
December 12th, 2017
Fr. Kyle Schnippel, the former vocation director here at the Archdiocese of Cincinnati, has been working hard as a pastor of a region of three parishes in the Northwest corner of the I-275 loop. So hard, in fact, he realized rather quickly into his assignment that if he didn't have an outlet to get his mind off his work, he would run himself ragged trying to keep up. So, from his love of brewing his own craft beers, Fr. Kyle's scientific mind switched gears to the warmth of the oven and the fun of kneading dough.
Father began baking about 6 months into his parish assignment and quickly determined to try the next new recipe he could find. He joined in a King Arthur Flour baking challenge and showed off his successes on his Instagram account.
Quickly he built up quite a local following. One of those followers caught wind that the Great American Baking Show was holding auditions for their next season and strongly encouraged Father to tryout. With a couple of his favorite recipes, Father traveled to Georgia and then to the Northeast where he made it through the auditioning process and was ultimately offered one of 1o spots in "the Tent" in jolly old England.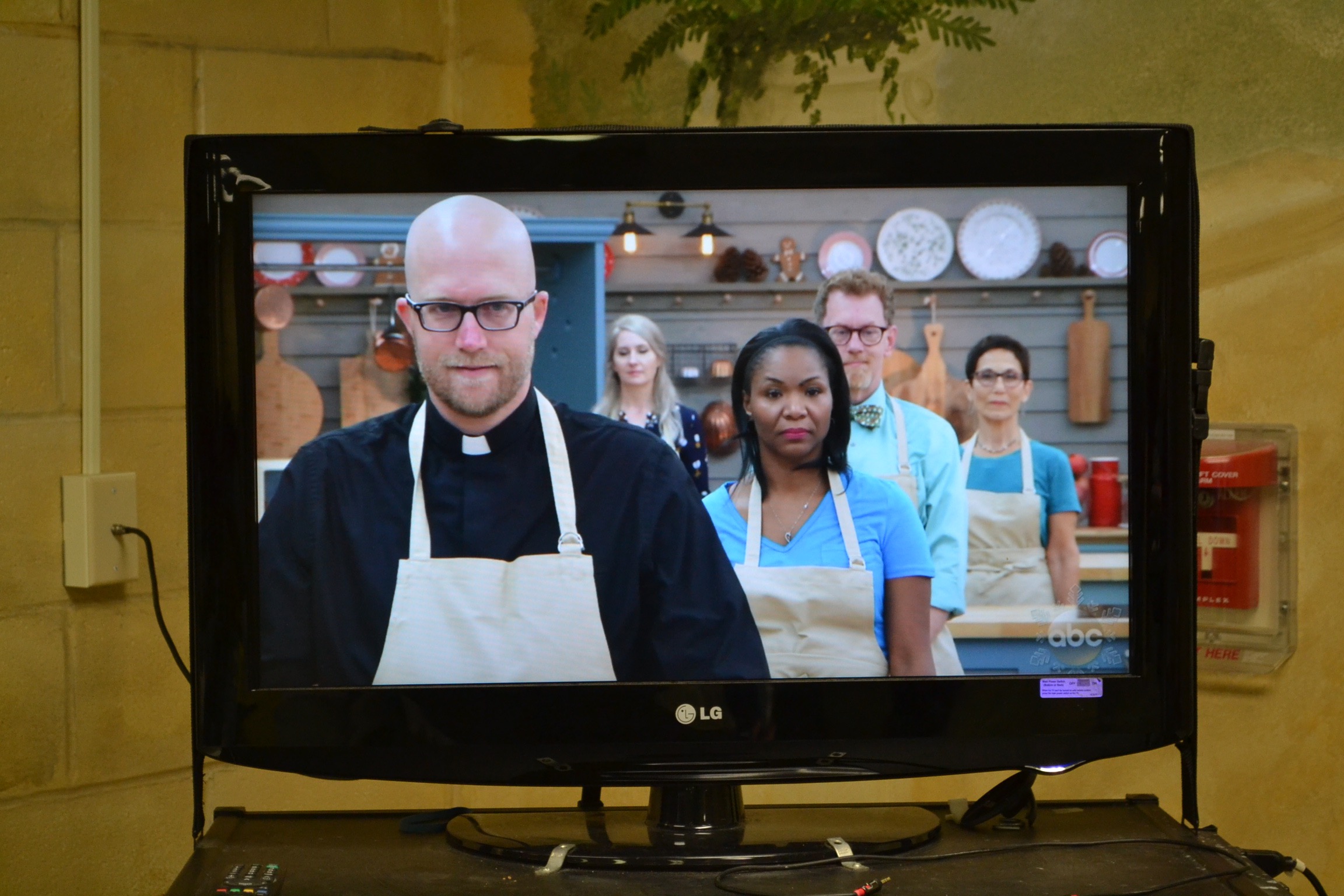 On December 7th, his journey culminated in
a watch party at one of his parishes (click the link to view pictures and a great write up of the event), St. John Neumann, where he and more than 100 of his parishioners and friends gathered to watch the premier episode of the Great American Baking Show and what a great experience it was. While the result was not what anybody in the room had hoped (Fr. Kyle was kicked off at the end of the second episode), the joyful witness of a priest using his talents outside of the church was one that hopefully will continue to shed light on a vocation far too often seen only at the altar.
With that in mind, at the end of the viewing party, Fr. Kyle announced that another popular priest who's great in the kitchen, Fr. Leo Patilinghug has agreed to come to St. John Neumann parish for a bake off between the two priests as the parish celebrates its patronal feast on January 20, 2018. More details will be coming from the parish in the coming weeks, but if you can't wait try some more of Fr. Kyle's wonderful baked goods, his parish region will be hosting watch parties for the next two weeks of the Great American Baking Show as well. This Thursday from 8-11pm the party will be in Francis Hall at Corpus Christi, 2014 Springdale Rd., Cincinnati, OH and next week's watch party will be hosted on December 21 from 8-11 at St. John Neumann's Daniel Hall, 12191 Mill Rd., Cincinnati, OH.
If you missed the first two episodes, you can still view them at abc.go.
Related Discussions
Categories
Featured Videos
Discerning Your Vocation: Eucharistic Adoration




Discerning Your Vocation: Devotion to Mary




Discerning Your Vocation: Daily Mass




Discerning Your Vocation: Prayer




Discerning Your Vocation: Talk to a Vocation Director




Interview with Fr. Tim Fahey




Interview with Fr. Alex McCullough




Priesthood Ordination 2016 (Vocation Office version)




College Seminary




This video features our young men who are in college seminary for the Archdiocese of Cincinnati.

The Gift of the Priesthood: Parents of the Called




What do parents have to say about their sons call to the priesthood? We took the opportunity to interview a few wonderful parents to learn more about the call to become a Catholic priest and the transformation of their son.
OTHER CATEGORIES